Scarecrow BIRD 4 Speaker Bioacoustic Bird Dispersal System
Prices from 2300.00
£2,760.00 (£2,300.00 ex vat)

Seen Scarecrow BIRD 4 Speaker Bioacoustic Bird Dispersal System Cheaper? We will match any online price for the same product.
Where to Use

Large industrial roofs, Airports, Warehouses, Loading Bays, Marinas, Landfill Sites.

How it Works

Plays a 45 second loop for the distress calls of: Pigeons, Starling, Herring Gull, Black Headed Seagull, Rook and the Jackdaw.

Fully automated 4 speaker bird dispersal system. Can add additional speakers up to a maximum of 30

Daylight Sensor included as standard

Coverage

Depends on the surrounding noise and location of the speakers. Please call 0844 822 8675 for further details.

How to Install

Mount each speaker as high as possible leaving the control unit in a secure, easily accessible location.

Speakers have mounting brackets for ease of installation.

15v DC mains adapter is supplied. The system can be connected to a battery and charged with a solar panel. Please ask our sales team for further details.

Fully waterproof with an IP rating of IP65.

Fitted with a fully adjustable stainless steel mounting bracket and 2m flex.

The system has the following unique features
Species-specific call selection from a pre-programmed list of 10 standard calls. User can select single or multiple calls which will play in sequence with a 60 second delay in between each species call.
Randomised playback. If multiple species' calls are selected to play the system will automatically randomise the sequence in which they playback on each occasion to avoid habituation
3-channel playback rotation, the system has three channels, each able to support up to 10 speakers allowing the user to create 3-zones across which the sound will broadcast in a randomised sequence. Each channel will playback for 60 seconds in turn with a 60 second delay in between. This created the perception of a moving threat which heightens the anxiety in the target bird species as it is unable to locate the source of the distress call.
Automated variable volume playback. The B I R D system will automatically raise and lower the volume of the playback during the 60 second output, up to a user pre-set maximum limit, to create the sense of a moving threat.
Adjustable automatic day light sensor in built to the system to effect dawn-til-dusk operation, birds are active in daylight hours, the system will shut down 1-hour after sunset to avoid nighttime playback and habituation. Light sensitivity can be adjusted
Remote light sensor available for when the control box has to be located indoors.
Optional PIN code lock to prevent unwanted tampering / adjustment to the system
LED display on box cover informs user of system status
External key pad controls for quick and easy system programming and adjustment.
The distress calls are not limited in this system and can be changed to suit your personal requirements. Please contact our sales team on 0844 822 8675 to discuss other options.
| | |
| --- | --- |
| Dimensions | 25x20x13cm WHD |
| IP Rating | IP65 |
| Material | Flame Retardant to UL94V-D Standard |
| Power Requirements | 15v dc or 110v/235v ac mains supplies |
| Audio Output | 20watts maximum |
Other Items You May Be Interested In
NEW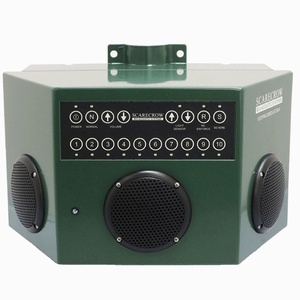 £1,104.00

(£920.00 ex vat)